hace 4 años · 1 min. de lectura · visibility ~100 ·
You are an amazing person! - ¡Eres una persona increíble!
**Abajo en Español.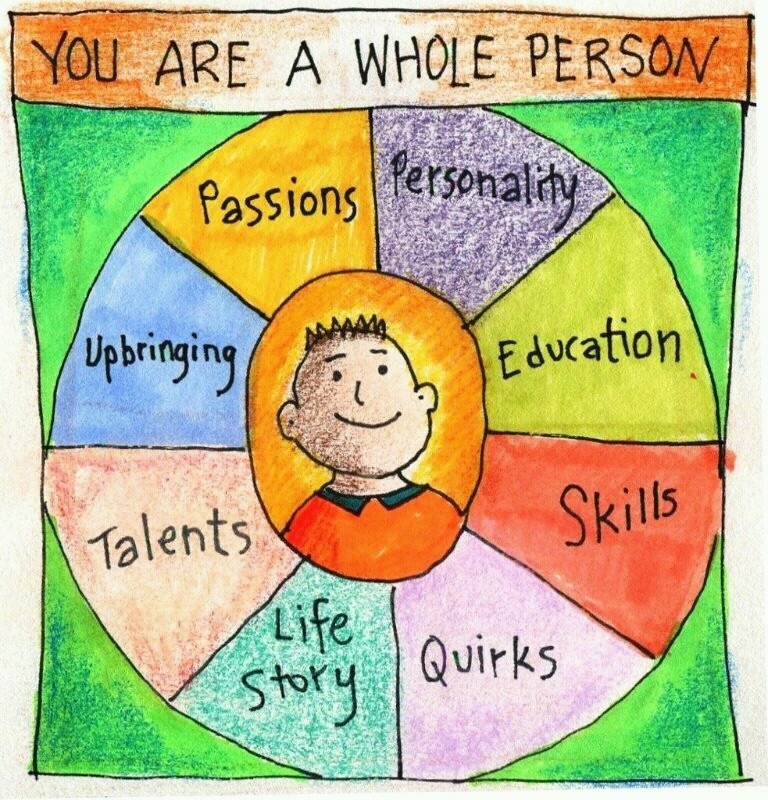 I saw this post on LinkedIn from Liz Ryan. 
She says:
You are a vibrant, amazing person -- much more than what's on your resume! How do you get your passion and power across to employers? 
Liz Ryan
Reinvention Roadmap
Reinvention Roadmap will teach you how to brand yourself in your Human-Voiced Resume and your Pain Letters -- to get the job you deserve!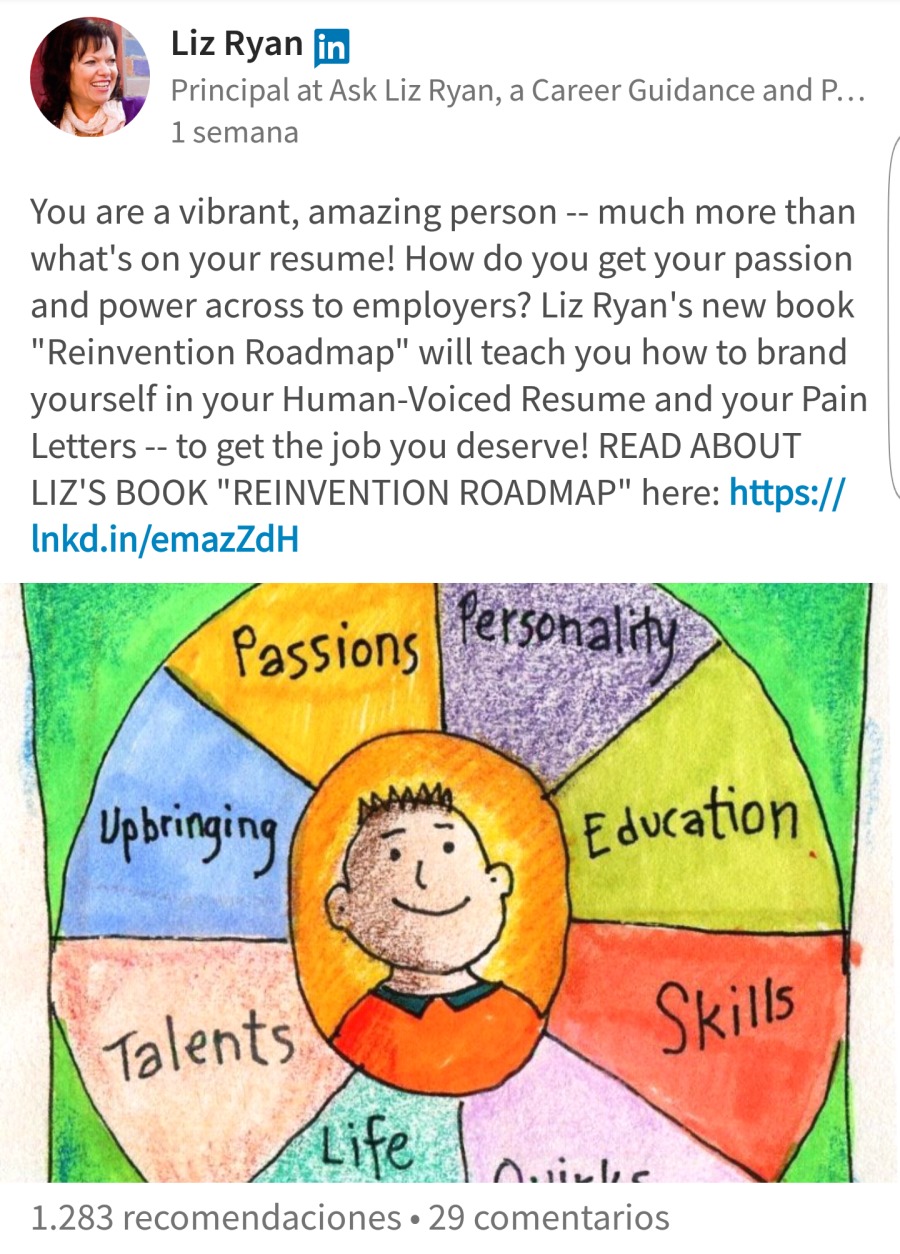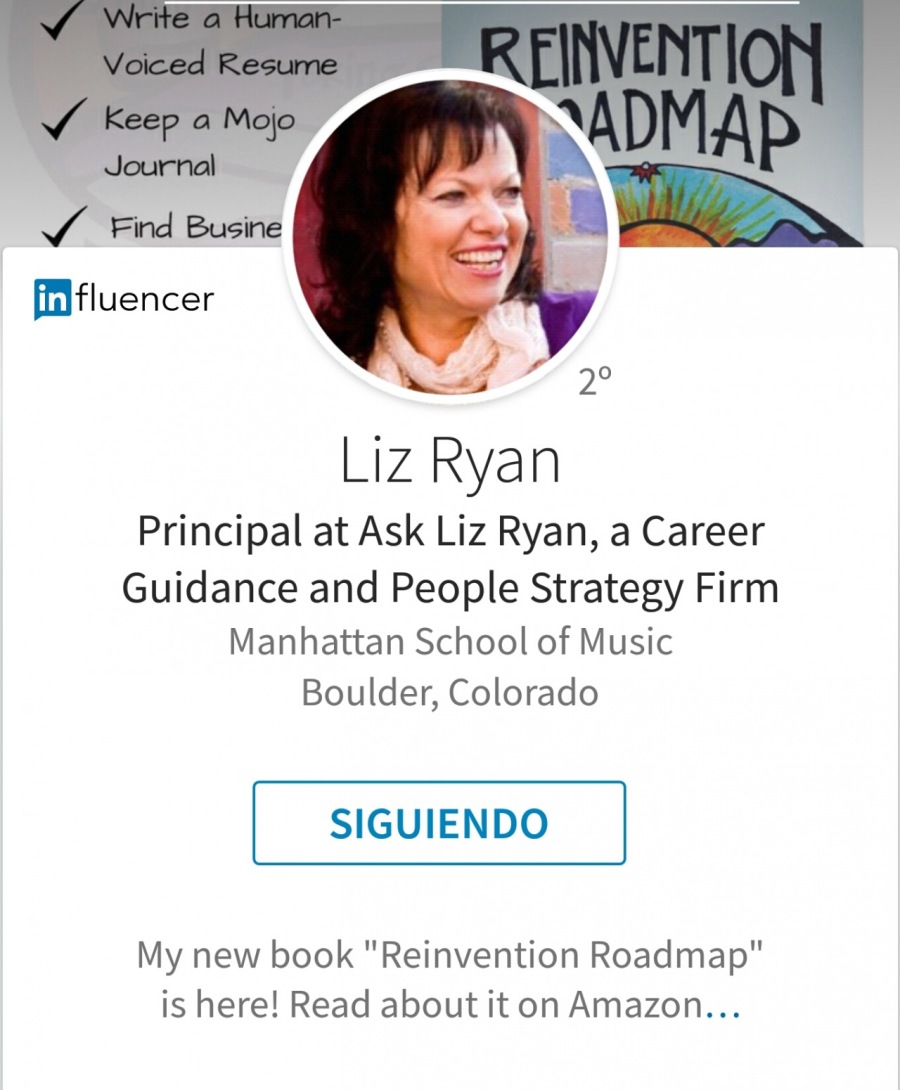 https://www.linkedin.com/in/lizryan

Liz Ryan has 1.7 M followers on LinkedIn.
"You are a whole person": This is exactly what beBee is !
You can buy her book on Amazon:
https://www.amazon.com/Reinvention-Roadmap-Break-Career-Deserve/dp/1942952686

beBee: the platform to create, showcase, and share your personal brand
beBee: professional engagement through passions
https://www.bebee.com/producer/@javierbebee/bebee-engagement-through-passions-english-espanol

beBee: Connections through passions; new people with common interests
beBee: benefit from having an integrated online presence
https://www.bebee.com/producer/@javierbebee/why-entrepreneurs-benefit-from-having-an-integrated-online-presence

On beBee, we drive connection and engagement through passions, hobbies, personal and professional interests. You can find other individuals with the same interests as you and then you can create a dialogue over that commonality. This is what we call affinity networking - a connection based on common interest.

These in-person networking opportunities blossomed into more successful connections because we found common interests and passions, which build rapport and deeper connection. beBee is the first social network that allows you to do that online.

Renée 🐝 Cormier's comment on LI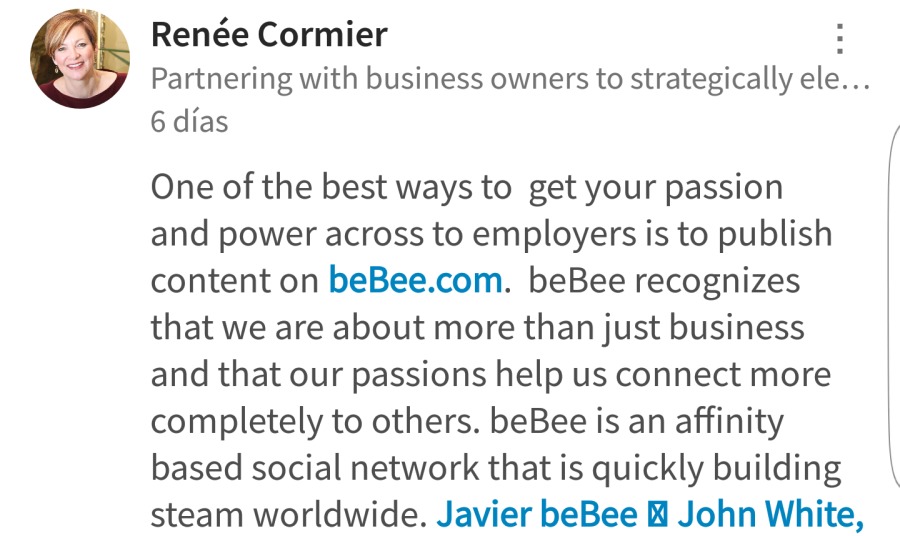 ===============================================================================================
En Español: 


Eres mucho más que un Currículum
Eres único, eres increíble - eres MUCHO MAS que tu Currículum ! ¿ Aprovechas tus pasiones y tu energía para seducir a las empresas ?
Liz Ryan
Recomiendo el Libro de Liz Ryan "Reinvention Roadmap" que te ayudará a reinventarte y te enseñará a crear tu Marca Personal, para conseguir el trabajo que mereces.
Desde luego, el mensaje de beBee es exactamente este mensaje. Las personas NO somos únicamente un Currículum, somos mucho más que eso, somos personas, con tu talento, aficiones, educación recibida, tu personalidad, formación/capacitación, tu historia de vida, tus peculiaridades - aquellas cosas que te hacen único - y tus habilidades.
Las personas hacemos negocios con personas.
Las actitudes con C cuentan y mucho más que las aptitudes con P.
Como dice
Renée 🐝 Cormier
, 
 beBee reconoce que NO solo buscamos negocio, si no que nuestras aficiones/pasiones nos ayudan a hacer mejores contactos profesionales.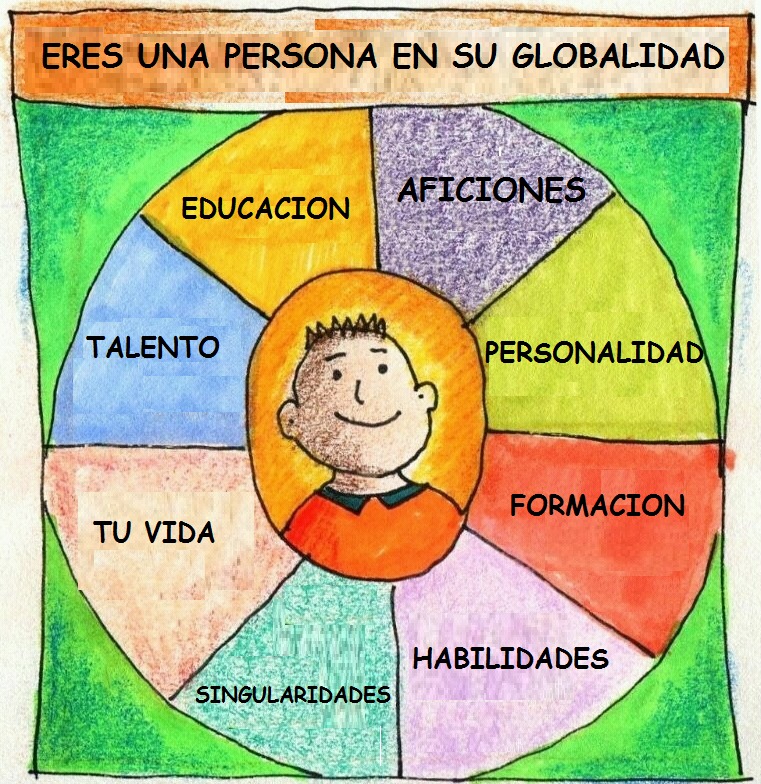 """""
No tienes grupos que se ajusten a tu búsqueda