hace 5 años · 5 min. de lectura · visibility ~100 ·
Toledo, España (Español & English)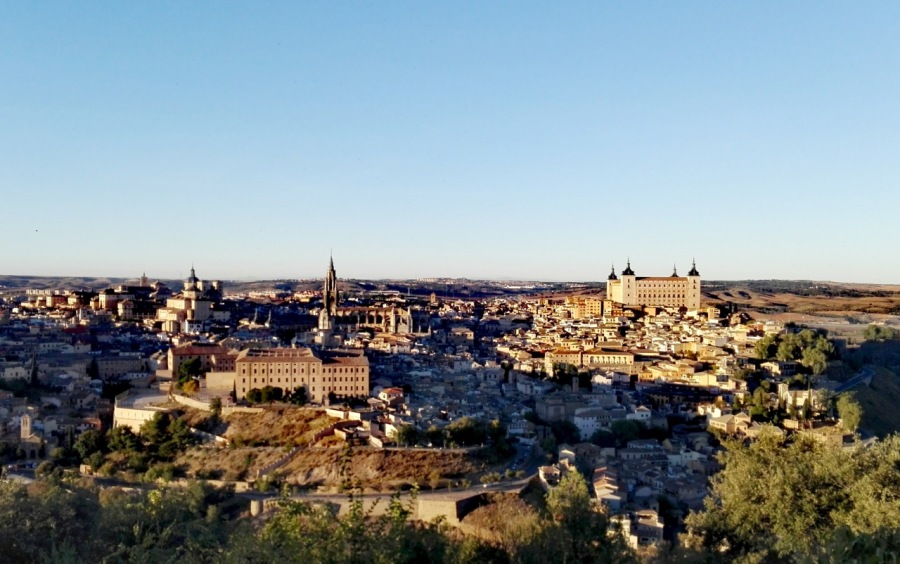 Vista de la ciudad de Toledo desde la terraza del Parador Nacional.
View of the city of Toledo from the terrace of the Parador Nacional.
(Todas las fotografías de este Producer son propias, realizadas la pasada semana. All pictures on this Producer were made by myself last week)
A lo largo de toda su extensa historia, Toledo ha sido conocida siempre por ser la Ciudad de la Tolerancia o la Ciudad de las Tres Culturas, con la convivencia de judíos, musulmanes y cristianos.
La ciudad nunca estuvo dividida de una manera clara por barrios de cada una de las religiones, pero sí existen zonas de una mayor influencia de cada una de ellas.
Toledo cristiano
Toledo fue cristiana desde el siglo IV, siendo parte del imperio de Roma, lo fue durante el reino visigodo (pugnando con la doctrina arriana) y pasó los siglos de convivencia entre las tres religiones, la musulmana, la judía y la católica, hasta la llegada de la Reconquista.
En el siglo XVII la entonces "ciudad convento" contaba con casi setenta edificios de usos eclesiásticos o afines como colegios, hospicios, hospitalitos, capillas.
Las iglesias de fundación más antigua como Santa Justa y Rufina, fueron remodeladas varias veces, según las necesidades y gustos de sus protectores. Después de las desamortizaciones decimonónicas, muchos de estos edificios pasaron a tener usos civiles, privados o administrativos.
Toledo árabe
La estructura urbana de Toledo es árabe, con sus calles estrechas y sinuosas, sus casas cuyos tejados casi se tocan, pero las ventanas nunca se miran de frente. Edificios que encierran a la vista pública sus joyas más preciadas, los patios llenos de verdor, azulejos y fuentes de agua. De la docena de mezquitas que existieron quedan dos, la del Cristo de la Luz, del año 999 y la de Tornerías, algo posterior.
La mezquita mayor estaba en el emplazamiento actual de la catedral, pero parece ser que no fue un edificio notable, sólo espacioso para poder acoger a todos los habitantes varones de la ciudad. La zona de el Alcázar y el actual Museo de Santa Cruz con su zona adyacente hasta el Puente de Alcántara, tenía muralla propia que separaba la alcazaba, su guarnición y los palacios, del resto de la ciudad.
Los barrios del sur, colindantes con el río, estaban ocupados por las tenerías, tintorerías y otras instalaciones relacionadas con el agua. Se supone que allí construyó su legendario reloj y calendario acuático el gran astrónomo Azarquiel.
Las puertas de Alfonso VI o Bisagra Vieja, la del Vado y la de Alcántara y de Doce Cantos tienen estructuras árabes. La noria en la orilla del Tajo, en el parque Safont, es herencia de las técnicas de regadío musulmanas. Pero sobre todo, la herencia más patente y omnipresente es la estética mudéjar en la arquitectura y decoración con el uso del ladrillo, la mampostería, los variados arcos entrelazados, las techumbres de madera y las ricas yeserías, utilizadas durante siglos en todo tipo de edificios, incluida la catedral.
Toledo judío
Las dos únicas sinagogas que permanecen en pie actualmente inducen a llamar el barrio donde se encuentran, la Judería, donde se supone hubo mayor concentración de la población hebrea, aunque en realidad en la ciudad llegó a haber un total de diez sinagogas repartidas por todo su emplazamiento.
Su límite sería la desaparecida parroquia de San Martín en las proximidades de la Puerta del Cambrón y los restos de construcciones defensivas por encima del Puente de San Martín, llamadas tradicionalmente el Castillo de los Judíos, siguiendo la línea ascendente casi recta de la calle del Ángel. Aquí podemos encontrar la Puerta del Judío del siglo XII al inicio de la cual existen casas con restos de las mikve, baños rituales, en sus sótanos. También la zona de la calle de Comercio y el solar ocupado desde el siglo XIV por el claustro catedralicio era conocida como la Judería o Alcanáa.
El comercio era una de las actividades principales de los judíos, que vivían encima de sus tiendas y talleres. No se puede descartar que no hubiera judíos en la calle de la Plata, pues eran reconocidos plateros, o en cualquier otra parte de la ciudad.
_____________________________________________
A throughout its long history, Toledo has always been known as a City of Tolerance or the City of Three Cultures, with the coexistence of Jews, Muslims and Christians.
The city was never a clearly divided by neighborhoods of each of the religions, but there are areas of greater influence of each.
Christian Toledo
Toledo was Christian since the fourth century, being part of the Roman Empire, it was during the Visigothic kingdom (struggling with the Arian doctrine) and spent the centuries of coexistence between the three religions, Muslim, Jewish and Catholic, to arrival of the Reconquista.
In the seventeenth century, then "city convent" had nearly seventy ecclesiastical buildings or related uses such as schools, hospices, hospitalitos, chapels.
The Oldest Established churches as Santa Justa and Rufina, were remodeled several times, according to the needs and tastes of their patrons. After the confiscations nineteenth century, many of these buildings started to have civilian uses, private or administrative.
Arabic Toledo
The urban structure of Toledo is Arab, with its narrow, winding streets, its houses whose roofs almost touch, but the windows never look ahead. Buildings that enclose public view your most precious jewels, the greenery-filled courtyards, tiled fountains. Of the dozen mosques that existed two left, the Cristo de la Luz, in the year 999 and the lathe, somewhat later.
The mosque was on the current site of the cathedral, but it seems that there was a remarkable building, only spacious to accommodate all the male inhabitants of the city. The area of ​​the Alcázar and the current Museum of Santa Cruz with its area adjacent to the Puente de Alcántara, had walls that separated the citadel itself, its garrison and palaces, the rest of the city.
The southern suburbs, adjacent to the river, were occupied by the tanneries, dyeing and other water-related facilities. It is assumed that there built his legendary aquatic watch and calendar Azarquiel the great astronomer.
Alfonso VI doors or hinge Vieja, the Vado and Alcantara and Twelve Cantos have Arab structures. The wheel on the banks of the Tagus, in the park Safont is inheritance Muslim irrigation techniques. But above all, the most obvious legacy is omnipresent Moorish aesthetics in architecture and decoration with the use of brick, masonry, interlocking the various arches, the wooden ceilings and rich plasterwork, used for centuries in all types of buildings , including the cathedral.
Jewish Toledo
The only two synagogues still standing today induce call the neighborhood where they are, the Jewish Quarter, where there is the highest concentration of the Jewish population, but actually in the city came to be a total of ten synagogues scattered throughout his site.
Your limit would be the former parish of St. Martin in the vicinity of the Puerta del Cambron and the remains of defensive constructions above the Puente de San Martín, traditionally called the Castle of the Jews, in line almost straight up the street from Angel . Here we find the Jewish Gate XII century to the beginning of which there are remains of houses, ritual baths in their basements. Also the area of ​​Commercial Street and the site occupied since the fourteenth century the cathedral cloister was known as the Jewish Quarter or Alcanáa.
Trade was one of the main activities of the Jews, who lived above their shops and workshops. It is not excluded that there were no Jews in Silver Street, were recognized as silversmiths, or any other part of the city.


La ciudad de Toledo, declarada Patrimonio de la Humanidad por la UNESCO en 1986, está enclavada en un promontorio rocoso rodeado por el río Tajo en pleno centro de España, a escasos 70 kilómetros de la capital, Madrid.
The city of Toledo, declared a World Heritage Site by UNESCO in 1986, is located on a rocky headland, bordered by the river Tajo in the very heart of Spain, just 70 kilometers from the capital, Madrid.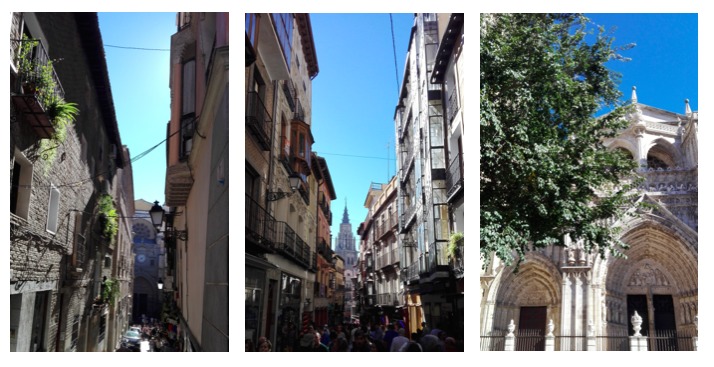 La estructura urbana de Toledo es árabe, con calles estrechas y sinuosas.
The urban structure of Toledo is Arab, with narrow and winding streets.

La Catedral de Toledo es uno de los edificios más representativos del estilo gótico en España. El Alcázar de Toledo está ubicado en la parte más alta de la ciudad.
The Cathedral of Toledo is one of the most representative buildings of Gothic style in Spain. The Alcázar of Toledo is located in the highest part of the city.
Página web oficial de Toledo
Página web de Turismo en Toledo, fuente de este artículo.
""""
No tienes grupos que se ajusten a tu búsqueda