hace 4 años · 4 min. de lectura · visibility +100 ·
The Greatest International Team in the History of Football
Spain (2008-2012) - A golden generation
As we all know
football is the most popular sport in the world
. With only some countries being an exception, football is something more than a sport in most countries - it is craziness, a way of life. From the smaller village to the most isolated island, you can always find youth playing football. Football 
is the most played sport across the globe because of one reason, it is cheap and easily accessible.
1. Football expresses the human nature.
A child just learns to walk in two legs. The next think which is going to do is to run, and then to kick something (ball in our case). Then to create a simple structure - probably to place to stones one next to each other (goalpost?).
2. You can practice football much more easily than the other sports.
To play amateur football, all you need is a ball and two stones or standing sticks placed in a parallel. While to play basketball you need at least a small basketball field, to play baseball you need special suits and a bat, to play rugby you need special suits, to play water polo you need a pool etc.
3. Football eliminates none.
It does not matter if you are short or tall. Even if you are kind of fat you can still play football if you have the talent. On the other side, in basketball you need to be tall, in rugby you need to be bulky etc.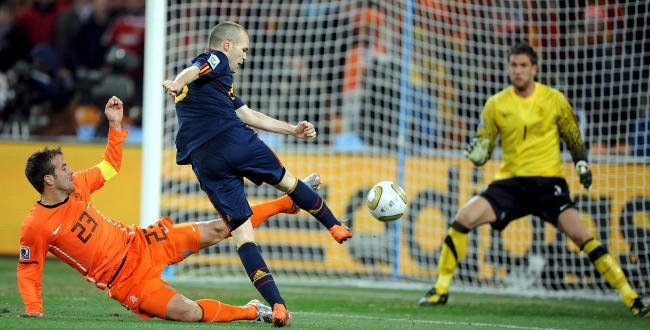 The most successful team that the history of football have seen is Spain with three major trophies in six years, including two euro cups and one world cup.

In sport, a golden generation or golden team is an exceptionally gifted group of players of similar age, whose achievements reach or are expected to reach a level of success beyond that which their team had previously achieved.

One of the most successful group of players, at club and international level, that the game has ever seen. While Spain had some decent teams over the years, they had always been international football's nearly men, and had never assembled a truly great team, just as they had by 2008. Spain's squad, predominantly made up of Barcelona and Real Madrid players, included such stars as Iker Casillas, Andres Iniesta, Xavi, Xabi Alonso, Sergi Busquets, Cesc Fabregas, Juan Mata, Gerard Pique, Sergio Ramos, Carles Puyol, Fernando Torres, David Villa and many, many more incredibly gifted players.
Spain won the European Championships in 2008 beating Germany in the final. Going into the 2010 World Cup, Spain were big favourites, despite having never progressed beyond the quarterfinals at a World Cup. Spain was a class apart and despite aggressive tactics used by Netherlands in the final, Spain won their first World Cup. They cemented their place as one of the greatest national teams ever at Euro 2012, thrashing Italy 4-0 in the final to make it three successive major trophies.
UEFA Euro 2008
Spain's dominance in football started with the victory in the Euro 2008 final where they outplayed Germany which largely was a one-sided match. The decisive goal came in the 33rd minute from none other than the team's star player, Fernando Torres. Midfield architect Xavi earned the assist after providing an absolute magnificent through ball. Spain was dominant throughout the match and ultimately went on to win the match with the scoreline being 1-0. The fans experienced something which seemed surreal and it was remarked as once in a generation event: Spain lifting a trophy as European Champions.

FIFA World Cup 2010. Road to Glory.
World Cup 2010. Road to glory. The year La Roja fans recall with utmost exuberance. The year Spain created history winning the World Cup for the first time ever. After an exhilarating campaign, they marched on to World Cup 2010. In spite of being the favorites to lift the cup, Spain's opening match against Switzerland reminded that if Spain anything less than their best would leave the door off the latch. Regardless of the first match, they went on to win rest of the matches by narrow margins and ultimately the moment arrived when their dedication and forbearance finally paid off. Football presented us a new World Cup Champion.

Iniesta changed the history of Spanish football.
UEFA Euro 2012
Spain entered Euro 2012 as the favorites and proved the world why they were not wrong. Spain emerged Euro champion for the 3rd time trouncing Italy to a 4-0 outcome. David Silva, Jordi Alba, Fernando Torres, Juan Mata found the back of the net respectively. What bothered Del Bosque during the tournament was the absence of an in form no. 9 for which he opted for Cesc Fabregas to lead the attack ahead of Alvaro Negredo and Fernando Torres as a 'false nine' role. But eventually, Torres went on to win the Golden boot while Xavi became the first player to register assists in two Euro finals. Spain's colossal feat in addition to their Euro 2008 and World Cup 2010 successes, made them the first team in history to win 3 major international tournaments consecutively.

Despite a strong pedigree at club level, with teams such as Real Madrid and Barcelona, Spain frequently underachieved at international level. However, they won their first major trophy since the 1964 European championship after defeating Germany in the Euro 2008 final. This was followed by success in the 2010 World Cup against the Netherlands and in 2012, Spain were again crowned European champions after defeating Italy 4–0. The first team in history to achieve three successive international titles. This has led many commentators and experts to declare this Spanish team as the greatest international team in the history of the game. With Barcelona's Xavi and Andrés Iniesta at the helm, this golden generation of technically gifted players have been credited with changing some of the standard model rules of the game. Spain played most of Euro 2012 with a so-called false number 9; replacing the traditional central forward role with a playmaker. 
Tiki-taka ( We write "Tiqui-taca" )
In each of their three tournament wins, Spain completed more passes than any other team in the competition. Along with passing, the other distinctive part of their game is ball possession. Spain have had majority possession in every competitive game since the start of Euro 2008, save the final game of Euro 2008 against Germany. Spain's tactical game has been dubbed "TIKI-TAKA". Spain has ended each of the last five years at the top of the FIFA World Rankings.

Tiki-taka (commonly spelled tiqui-taca in Spanish) is a style of play in football characterised by short passing and movement, working the ball through various channels, and maintaining possession. 

The Most Dominant Teams in Europe are Spanish

Spanish Teams dominant during the last years: ( 6  European Championships of the last 9 ones )


Real Madrid is the most successful club in the competition's history, having won the tournament 12 times, including its first five seasons. Spanish clubs have accumulated the highest number of victories (17 wins), followed by England and Italy (12 wins apiece).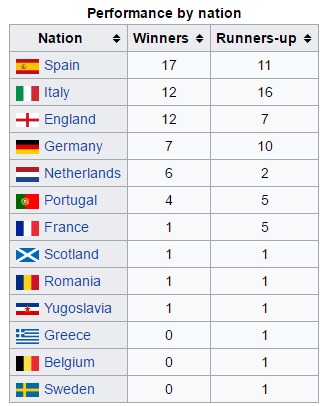 The termination of an unprecedented era of supremacy
So that's all? Spain's golden era came to an end? The answer that would come floating from everyone's mouth is 'Yes'. The termination of an unprecedented era of supremacy ensued.

We express our gratitude and appreciation to Spain national team for the elegant and beautiful football that they provided us with. It's high time Spain adapted themselves to the changed football and burgeon thereby with proper guidance and supervision.

Original Sources:
https://able2know.org/topic/81876-1

https://www.sportskeeda.com/football/the-rise-and-fall-of-spains-golden-generation
https://es.wikipedia.org
"""