hace 4 años · 2 min. de lectura · visibility ~10 ·
Soñar despierto / Awake dream

                           "¿Qué es la vida? Un frenesí.
                           ¿Qué es la vida? Una ilusión,
                            una sombra, una ficción;
                            y el mayor bien es pequeño;
                            que toda la vida es sueño,
                            y los sueños, sueños son."

       English                     
                           "What is life? A frenzy.
                            What is life? An illusion,
                            A shadow, a fiction;
                            And the greatest good is small;
                            That all life is dream,
                            And dreams, dreams are. "



Fuente: Segunda Jornada. Escena XIX. Monólogo de Segismundo.

La vida es sueño, 

obra

teatral.

Autor Pedro Calderón de la Barca
El sueño de Troya

En casi 2500 años, muchos pensarían como él. Unas veces seria imposible por quien dominaba esas tierras. Otras como el caso que nos ocupa, la ortodoxia te clasifica de loco y poco científico. 
Es cierto que a Heinrich Schliemann se le ve como un chapucero desde el punto de vista arqueológico y con los ojos de hoy, sin duda lo fue.
Pero para lo que hoy lo rescato es para recalcar lo que diferencia a los sueños. Existen sueños que siempre "dormirán" en el limbo, otros sin embargo movidos por la esencia de la acción se convierten en eventos del ser humano.
Afortunadamente, ese tipo de eventos se producen constantemente. Cada uno tenemos nuestra "Troya" Disimulada en forma de panadería, de puesto cualificado, de una nueva vacuna o de Agencia de Publicidad.
English

The dream of Troy
In almost 2500 years, many would think like him. Sometimes it would be impossible for who dominated those lands. Others like the case that concerns us, orthodoxy classifies you as crazy and unscientific.
It is true that Heinrich Schliemann is seen as a clumsy from the archaeological point of view and with the eyes of today, it certainly was.
But for what I rescue, it is to emphasize what differentiates the dreams. There are dreams that will always "sleep" in the limbo, others nevertheless moved by the essence of the action they become events of the human being.
Fortunately, such events are constantly occurring. We each have our "Troy" concealed in the form of a bakery, a qualified position, a new vaccine or Advertising Agency.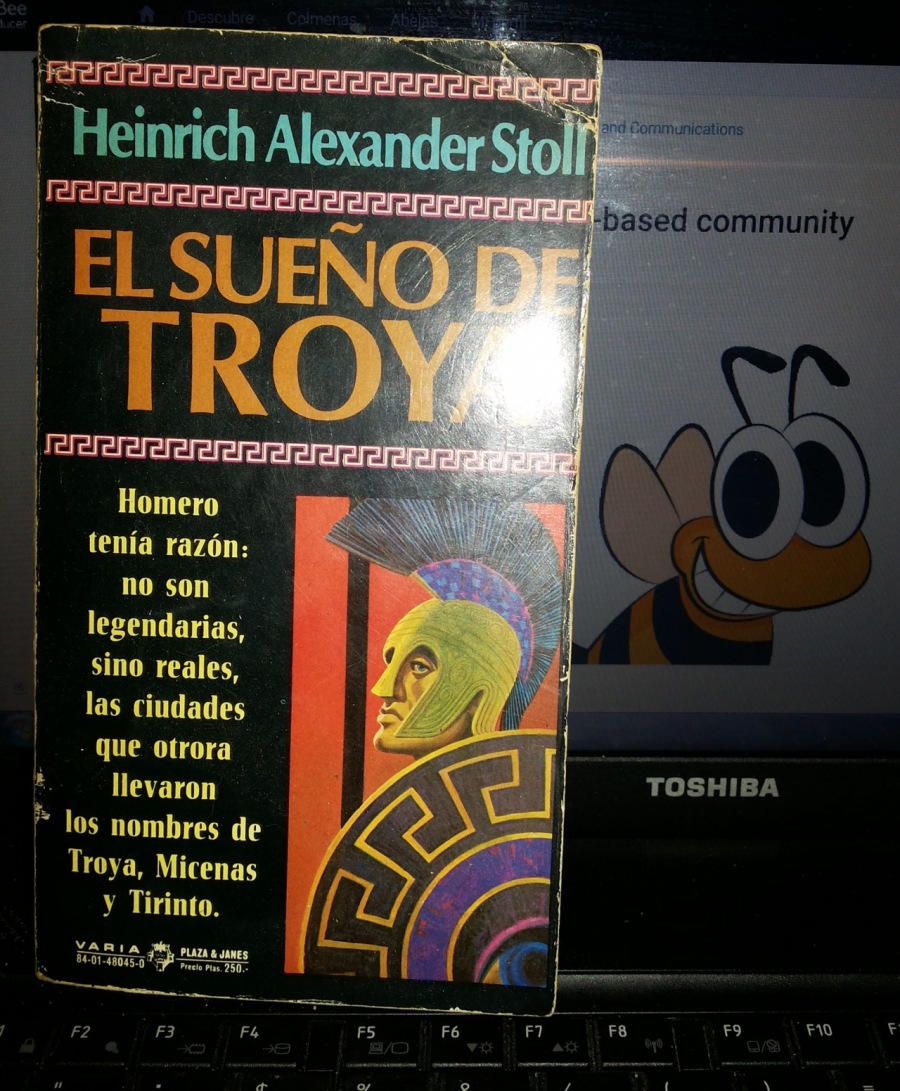 La inocencia de la infancia, lleva a Heinrich a planteamientos que cambiaran su vida.
Cuando su padre le comenta que La Iliada escrita por Homero es fantasía, él mira el libro que le acaban de dar y dice "Troya esta aquí, dibujada" Cuando le dicen que el que lo ha dibujado también lo idealiza pregunta a su padre ¿Pero de existir tendría esos muros enormes? ¿Verdad? 
Si, contesta el padre. "Entonces aún deben quedar restos enterrados"
El sueño de Troya es una biografía novelesca. Como fue la vida del protagonista
El protagonista es un portento de los idiomas, superviviente de un naufragio y de la fiebre del oro en 
California. 
Varias bodas y posteriores divorcios. Y sobre todo un sueño Troya
       ¿Cual es tu Troya?
English

The innocence of childhood, leads Heinrich to approaches that changed his life.
When his father tells him that The Iliad, written by Homer, is a fantasy, he looks at the book he has just given him and says "Troy is here, drawn" when he is told that the one who drew it also idealizes him, asks his father But would there be such enormous walls? true? Yes, the father answers. "Then there are still buried remains"
The dream of Troy is a fictional/biography. How was the life of the protagonist
A portento of languages, shipwreck survivor and gold rush in
California. Several weddings and later divorces. And above all a Troy dream
                                        What is your Troy?
""
No tienes grupos que se ajusten a tu búsqueda