hace 4 años · 3 min. de lectura · visibility ~100 ·
LinkedIn Alternatives for Professional Networking
When we talk of building your professional network the first name that pops up in our mind probably is LinkedIn. Whether you are looking for a new job, looking to hire a professional for your set up or simply wish to grow your professional network and maintain connections with people in your work circle, LinkedIn has been the ultimate source for many.

On LinkedIn, you connect with people you know. The content in your feed is based on those connections. You see what they post - whether it's relevant to you or not.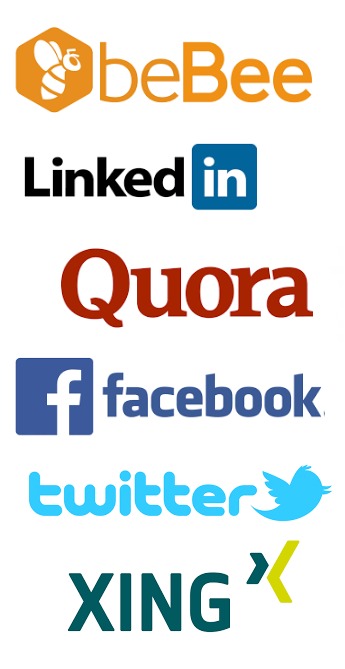 beBee

On beBee, we drive connection and engagement through passions, hobbies, personal and professional interests. You can find other individuals with the same interests as you and then you can create a dialogue over that commonality. This is what we call affinity networking - a connection based on common interest.
Matt 🐝 Sweetwood
The connections you make on beBee are more meaningful because of shared interests and passions not just business connections.
Claire L 🐝 Cardwell
beBee is about connecting deeper with people.
Claire L 🐝 Cardwell
beBee is the only platform that believes in 100% organic reach. So, when you build a following on beBee you can be assured that your posts will always be exposed to your entire network. Thus, you control your own destiny with your branding. If your content is good it will get viewed and shared. If you are influential within hives - affinity groups -, you will gain followers.
beBee is the most complete alternative to LinkedIn for professional networking. On beBee, you can share your content through Facebook, LinkedIn, Twitter, ....
The most annoying part of achieving business success is the constant parade of those who try to manufacture a relationship in the name of their own networking.

  

These desperate attempts underscore

the fact that networking and relationships are fundamental to business success

, yet ignore that

the best relationships include equal amounts of give and take

.

 

Here is the key point: Invest more time into fewer relationships. It may sound counterintuitive, but generally your networking effect is far stronger, as people who have deeper relationships with you create more powerful referral relationships on your behalf.

In an age of ubiquitous social media, it is even more important to ensure the connections you make are genuine. The simple truth is that the most fruitful connections are borne of something shared. Whether that's a sports club, music, general business, or any number of affinity groups, it is primarily about a sense of shared engagement. If you are authentic and interesting as a person, it immediately translates into someone who people are interested in getting to know and wanting to help. Thomas Chaffee
Read more at: This Is What You Can Do to Start Making More Meaningful Connections by  Thomas Chaffee
Twitter
Twitter is an alternative to LinkedIn for professional networking. One advantage to Twitter is it's an open "cocktail party" atmosphere - like beBee.  You can search hashtags and keywords, join any conversation or meet new people in your industry.

Facebook
If you connect on Facebook with the majority of your business contacts, you can easily share news with each other about business and your personal lives. You can also see mutual friendships, which can further improve networking. Anyway it is not easy because Facebook is usually seen as your private life ( family & friends ).



Xing
If you are a german speaker, Xing is a great alternative to LinkedIn in Germany and Austria. Xing is exactly "the german Linkedin". Germany is a very special country and Xing couldn't grow outside Germany. beBee is the only alternative to LinkedIn that is growing fast worldwide. LinkedIn's and beBee's international presence is a huge competitive advantage. I think finally, XING will be wiped out by LinkedIn. It is a question of time.
Both companies are offering the same features: Professionals can create a profile and connect with their co-workers and acquaintances in order to build up a professional network and to boost career prospects.
Anyway consider Xing if you live in Germany because they are doing a great job.


Quora
Quora can be great for your business. Any time you're unsure of business decisions, such as strategic partnerships or how to train an inside sales team, just post it, and experts in the field will respond. Generally, you can get ideas and implement most of the feedback you receive. 

Conclusion
Despite LinkedIn being the largest professional networking , there are plenty of other networking options to help you make meaningful connections. You should never put all eggs in ONE basket. In fact, some of these alternatives may be more helpful than LinkedIn because they focus on creating more professional connections based on your interests.
Besides LinkedIn, what other networking sites do you use to make professional connections?
Many questions can arise... 
What is an alternative to Linkedin?
Which are the top business social network sites other than Linkedin?
Alternatives to consider for your networking strategy
What are the alternatives to LinkedIn for sourcing and networking?
Superior alternatives to LinkedIn Groups?
Recruiting Alternatives to LinkedIn
Networking Alternatives to LinkedIn
Networking Online: Alternatives to LinkedIn
The Difference between Facebook, beBee, Twitter and LinkedIn
LinkedIn: The Undisputed Champion of Profesional Networking
Is This a LinkedIn Killer?
The Biggest Threat to LinkedIn: The Power of Many, Not one?
Networking for job seekers
LinkedIn alternatives to grow your professional network
Are there any valid alternatives to LinkedIn?
Career Alternatives
LinkedIN Alternatives and similar software
Leaving LinkedIn? Valuable and Viable alternatives
Linkedin Premium alternatives and competitors
Other ways to expand your online network
"
No tienes grupos que se ajusten a tu búsqueda