hace 1 año · 2 min. de lectura · ~10 ·
Equalizing the amp
Hi! If you are starting to learn guitar you don't need a big amp since it's expensive and sounds too loud! To practice at home a small amp like the one on the right is enough. The one on the left would be the type to play with a rock band in a soundproof room.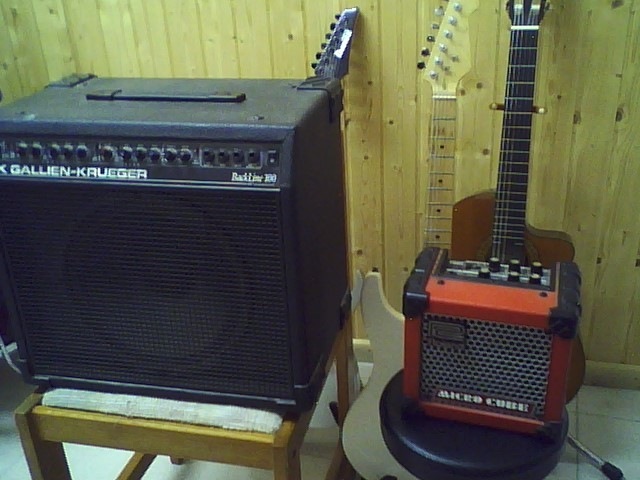 And how can you get a cool distortion with such a small amp!? Well... choose "R-Fier" type of distortion (red arrow) , "Tone" (green arrow) at midway (in this amp there is only this button), "Gain" (blue) at maaax! and Volume (orange) very little otherwise it would sound too loud! So this way will sound low but with very good sound quality.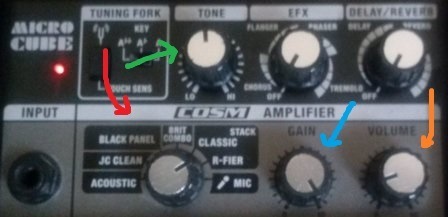 This is an example of distortion in a small amp. Equalization: Bass at max. 10, Middle at 0 and Treble 7 as it's a small amp since the speaker is small too, in big amps at 10. Gain 7 but could be heavier, at 10. I set very low the overdrive volume just to hear myself practicing but with good sound.

And what's about the clean sound? Well in small amps with only one volume button, you need to rise it (orange arrow) and lower down the "Gain" (blue arrow) to minimum. Of course, first you have to select acoustic or JC-clean (red arrow) and "tone" (green arrow) also at midway as before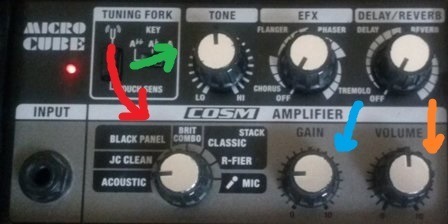 And how do you equalize a bass amp? This amplifier is easy to use, has no effects but a graphic equalizer, as the stereos have, and gives a very good sound!


But a middle size GUITAR amp of 40 or 50 watts like this, has more sonority and may be equalized in many other ways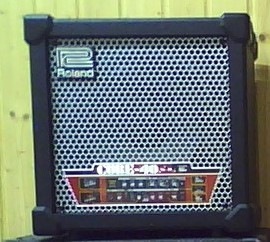 One common way is setting Basses at 7, Middles at 4 and Trebles at 6. This amp has many effects regulated on the button below Treble and the three on the top right side.

Do you like AC/DC? I would equalize the amp like this: basses, middles and trebles at midway, 40 % of gain and rise a bit the distortion volume (next button) since they play many chords with distortion in their songs and small amps sound better that way.

Another example of a small amp made by a very well known brand. It has only a few buttons to equalize but it sounds very well. If we press the square button we activate the distortion. To play heavy I set "Gain" at max and the distortion volume (3rd button) not too high...

...and in this other photo I've halved the Gain to play rock or blues. That turned the overdrive volume down so I raised it a bit. In both cases I've set the Tone near the middle but a bit towards the low sounds since this amp speaker is small and gives more treble sounds than basses.

I hope this explanation was useful. I see you soon!
Artículos de Miguel Angel González Aguado
Ver blog
Puede que te interesen estos puestos de trabajo
Encontrado en: beBee S2 ES - hace 2 días

---

Volver a la página principalBotones en H10 The One BarcelonaBarcelona · Publicada el 5 de septiembre de 2022DescripciónH10 Hotels precisa incorporar a una persona para la posición de Botones para trabajar en nuestro hotel H10 The One Barcelona · Las funciones a desarrollar serán ...

Encontrado en: Jooble ES - hace 4 días

---

National Center for Oncological Research

Madrid

Inicio · Predoctoral Research Assistant for the Growth Factors, Nutrients and Cancer Group Referencia de la oferta: AIPREGFNC38 · Inicio de la oferta: 02/12/2022 · Fin de la oferta: 31/12/2022 23:59:00 Descripción · The Growth factors, Nutrients and Cancer group is looking f ...

Encontrado en: Cronoshare ES - hace 1 semana

---

Me gustaria tatuarme una frase en el antebrazo que dijera only us three vs the worldTipo de servicio deseado · Hacer tatuaje · No de tatuajes · 1 · Tipo de tatuaje · Permanente · Descripción del tatuaje deseado · Frase: only us three vs the world · Color del tatuaje · Negro · Tam ...