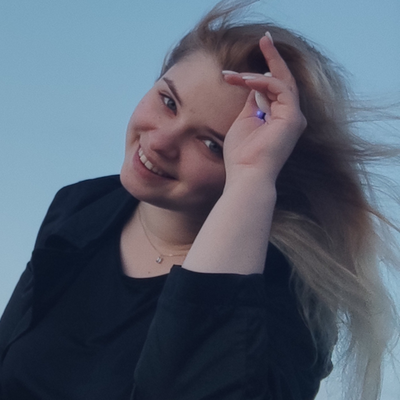 Sobre Valeriia Zarvanytska:
SKILLS:
Adobe Experience Manager 
Trello 
WordPress 
ContentStack 
Basic knowledge of HTML. 
Basic knowledge of Zeplin/Figma/Canva
Confident user of Microsoft 365 (excellent skills in Word) 
High copywriting skills 

Passed two courses to grow in customer support
Customer service mystery and communication fundamentals
Courses about project management and time management
Front-end (SheCodes student)

- Ukrainian (mother tongue); 
- Russian (mother tongue); 
- level of English upper intermediate, spoken English – advanced C1 (IELTS certificate 2016); ability to convince;
- high level of organization; 
- favorite task - helping newcomers; 
- ability to resolve conflicts; 
- creativity; 
- increased sales and customer support skills; 
- analytical thinking; 
- knowledge of legislation, skills in drafting contracts, and documentation.




 
Experiencia
WORK EXPERIENCE:
Summer 2014- sales assistant, clothing and accessories department 
Summer 2015- sales assistant in "Ruta" store, selling national clothes, accessories, jewelry, home decor. 

February -May 2018- operator of the outgoing line of the call center of BeamExpo company. Hot calling, according to personally collected databases. Scope: offering industrial companies visits to specialized exhibitions. 

June - December 2018 - inbound line operator of UIA (Ukraine International Airlines) at Simply Contact. 

February 2019- legal practice IT-town" - NDA contracts. 

April - August 2019 - inbound line operator of UIA (Ukraine International Airlines) at Simply Contact. 

May 2019 - February 2020 - work in the Periodix team. Facebook group administrator, creating content for promotion on Facebook, Reddit, LinkedIn. Content manager and Sales manager. 

May 2020 - December 2022 - content producer at Ciklum. (Earlier in the position - customer support). Worked with Riot Games, AkzoNobel, Climate Pledge, NEOM, HP Printers. 

Autumn 2022 - Spring 2023:
participation in 3 start-ups: 
* Axdraft - legal engineer, a lawyer in IT (full customer support, creation of all types of documents; working with clients like USAA (USA), Mining Plus (Canada), Dtek, Ukrsibbank (Ukraine) 
* Giggster - content coordinator (creating and managing content about cities and activities in USA and Canada to support offline events)
* Immigram - QA (customer support, creation specific documentation/assistance in getting UK Global Talent Visa)
Educación
2016-graduated from the Ukrainian-American Lyceum(UAL) (August31,2012-May28,2016); 
Bachelor of Laws. Faculty of Law of the Oles Honchar Dnipro National University, (August31,2016-June2020). 
Master's degree. Law. Faculty of Law of the Kiev National University of Infrastructure and Technology.
Profesionales del mismo sector Tecnología / Internet que Valeriia Zarvanytska
Profesionales de diferentes sectores cerca de Palma, Palma de Mallorca, Baleares
Otros usuarios que se llaman Valeriia
Trabajos cerca de Palma, Palma de Mallorca, Baleares
---

OK Mobility

Palma de Mallorca, España

¿Tienes experiência en la resolución de incidencias técnicas y te defines como una persona organizada y resolutiva? · Entonces, sigue leyendo · OK Mobility llegó para revolucionar el mundo de la movi ...

---

American Vintage

Palma de Mallorca, Islas Baleares, España

American Vintage, es la historia de una moda sincera, en un registro usual, un elogio a la sencillez, cuyos códigos muy particulares - tonos pasteles matizados, materias delicadas y cortes minimalista ...

---

La Nave Nodriza

Palma, España

A tiempo parcial

El estudio creativo y de comunicación La Nave Nodriza busca a un Community Manager con experiencia. · Horario: · Media jornada. · Ubicación: · Artà. Mallorca · Modalidad: · Híbrido (remoto + presencia ...