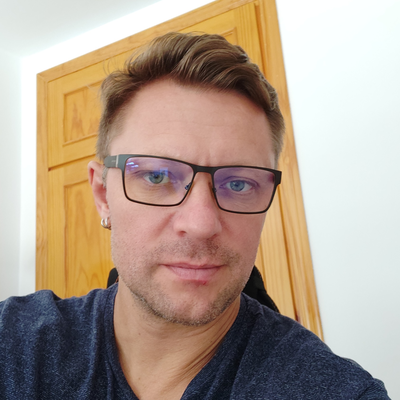 Ariel Esteban Gonzalez
Junior Fullstack developer | UX/UI designer
Málaga, Málaga
Sobre Ariel Esteban Gonzalez:
Born in the city of La Plata (Argentina) in the late 70's, I have been attracted by design and its multiple varieties ever since.
After finishing my studies in 2004 as a Designer in Visual Communications, I have been inquiring into web development as an idyllic professional field, having performed various specific training paths succesfully.
Due to this fact, I was able to focus my career into an hybrid profile between designer and developer, motivating me exponentially to continue growth.
I define myself as a good communicator and I´m keen on details and professionalism.
Passionate about new technologies, I'm always open to diverse challenges that involve software, design and usability.
Experiencia
09/2021 - 06/2023 : Accenture | Javascript Frontend developer (React / Angular / Node.Js) Accenture Málaga / Full time job / Málaga, Andalucía, Spain (Remote) Code development, mockups implementation and components integration over multiple web applications, concerning diverse clients, using the following technical stuff: - React.js / Typescript / Next.js / GraphQL / Storybook.js / Swagger / Git / Bitbucket - Angular / Angular Material / Bootstrap / Node.js / SASS / CSS / HTML
08/2020 - 12/2020: General Assembly | Frontend / Backend developer General Assembly London / Full time scholarship / Málaga, Andalucía, Spain (Remote) MERN stack development. React.js / SASS / Node.js with REST API / Express.js / MongoDB / PostgreSQL / Mongoose ORM. MVC approach. CLI Linux / Npm / Yarn. Heroku / Netlify deployment. VS Code / Git / GitHub.
05/2019 - 05/2020: GRUPO MARTIN CASILLAS SL | Remote systems operator Martín Casillas Sevilla / Part time job / Sevilla, Andalucía, Spain (Onsite) Systems control assistant in a VPN environment. Remote management of TPV's and cashpoints. Customers assistance by CCTV/Phone. Database updates for products and users. Complaints management and technical customer support. 
02/2019 - 05/2019: RK ESTUDIO | Web Developer / Graphic Designer RK Estudio Sevilla / Part time practices / Sevilla, Andalucía, Spain (Onsite) Project planning and final layout. Corporate identity management. Printed and digital design, POP advertising. Overall layout and production of visual information systems. Template customization with HTML5 / CSS3 / Javascript. 
09/2017 - 06/2018: FREMAP PROFESSIONAL RE-ADAPTATION | Web Developer / Graphic Designer Fremap Majadahonda / Full time internship / Majadahonda, Madrid, Spain (Onsite) Full-time intern in Digital Marketing / Graphic Design / Web development HTML5 / CSS3 / Javascript. Components building with Jquery.
Educación
 10/2022 - Today | Google UX Design Certificate | Coursera | In progress Foundations of User Experience (UX) Design. Start the UX Design Process: Empathize, Define, and Ideate. Build Wireframes and Low-Fidelity Prototypes. Conduct UX Research and Test Early Concepts. Create High-Fidelity Designs and Prototypes in Figma. Responsive Web Design in Adobe XD. Design for Social Good and Prepare for Jobs 
06/2023 -08/2023 | Frontend development with Angular | Adecco Online Foundation (Madrid) | 215 hs. Javascript. Typescript. Git. Github. Angular framework: components, modules, models, services, directives, pipes, Angular Material UI, testing with Jasmine. Ionic framework using Angular 13.
04/2021 - 06/2021 | Web development Python / Django / Flask / Machine Learning | Adecco Online Foundation (Madrid) | 215 hs HTML5 / Bootstrap / JQuery / Git / GitHub. OOP Python. Python - MySQL / MongoDB integration. Django. DTL. Flask. MVT model. Django / Alchemy ORM. Django REST. ML with Numpy, Pandas & MatplotLib. 
08/2020 11/2020 | Software Engineering Immersive | General Assembly (London) | 480 hs HTML5. CSS. Javascript. REACT. JSX syntax. SASS. Node.js. Express.js. MongoDB. PostgreSQL. MVC model. REST API. JSON. Mongoose ORM. NPM. YARN. Heroku. Netlify. CLI Linux. VS Code. Git. GitHub.
09/2017 - 06/2018 | Certificate of Professionalization in Web development | Autonomous Community of Madrid | 480 hs HTML5 / CSS / Javascript / Bootstrap / JQuery / Wordpress / MySQL / Adobe Photoshop / Illustrator / Indesign 
03/1998 - 04/2004 | Bachelor's degree in Visual Communication | National University of La Plata (Argentina) | 4500 hs Analysis, concept and layout of visual identity systems. Marketing strategies. Corporate Branding . Print design. Sign systems. Web UI design. POP design.
Profesionales del mismo sector Tecnología / Internet que Ariel Esteban Gonzalez
Profesionales de diferentes sectores cerca de Málaga, Málaga
Otros usuarios que se llaman Ariel Esteban
Trabajos cerca de Málaga, Málaga
---

ACCOM BPAC

Málaga, España

De jornada completa

¿Cuáles serán tus funciones? · Desarrollo de aplicaciones con frontal React. · Desarrollo evolutivo y correctivo back con PHP (Frameworks Laravel y Code Igniter). · Creación e integración de APIS. ...

---

Walters People

Malaga, España

Prestigioso despacho de abogados nacional busca un Abogado Junior para su departamento Fiscal/Mercantil. · Tus funciones serán las siguientes: · Apoyo en la preparación, negociación y revisión de docu ...

---

Serviguidebpo

Malaga, España

Serviguide BPO, perteneciente al grupo HPS, precisa incorporar un desarrollador. · NET fullstack. · Ofrecemos: · Contrato indefinido. · Participación en proyectos y tecnologías innovadoras. · Proyecto ...